Cricketer Virat Kohli sold for Rs. 17 Crores
Posted January 5, 2018, 6:51 pm at 18:51 
Indian cricket team captain, Virat Kohli created another record. He becomes the highest paid player in the history of 10year-old-IPL. After the BCCI introduced the scheme of 'holding the players' to their respective franchises, the Royal Challengers Bangalore (RCB) reportedly spent Rs.17 crores in an auction to hold back Virat Kohli. Previously, RCB was paying Rs. 15 crores to Virat Kohli for playing their franchise, and this amount has gone Rs. 2 crores in the latest auction.
The previous record was in the name of Yuvraj Singh, who was paid Rs. 16 crores by the DDL (Delhi Daredevils) franchise to reportedly hold him back.
With Kohli sitting at the top of the leaderboard for the highest paid, the former Indian captain, Mahendra Singh Dhoni has acquired Chennai Super Kings for Rs. 15 crores. Even Mumbai Indians paid Rs. 15 crores to hold back Rohit Sharma. The Sunrisers Hyderabad (SRH) held back Steve Smith and David Warner for Rs. 12 crores each.
Generally, any sports league loses its flair after a couple of years. But shockingly, IPL, which a decade-old league still manages to go in the uptrend, be it television rights deal, tickets, or even sponsorship deals, despite many allegations and discrepancies. The league has been a major income source for many Indian and foreign cricketers.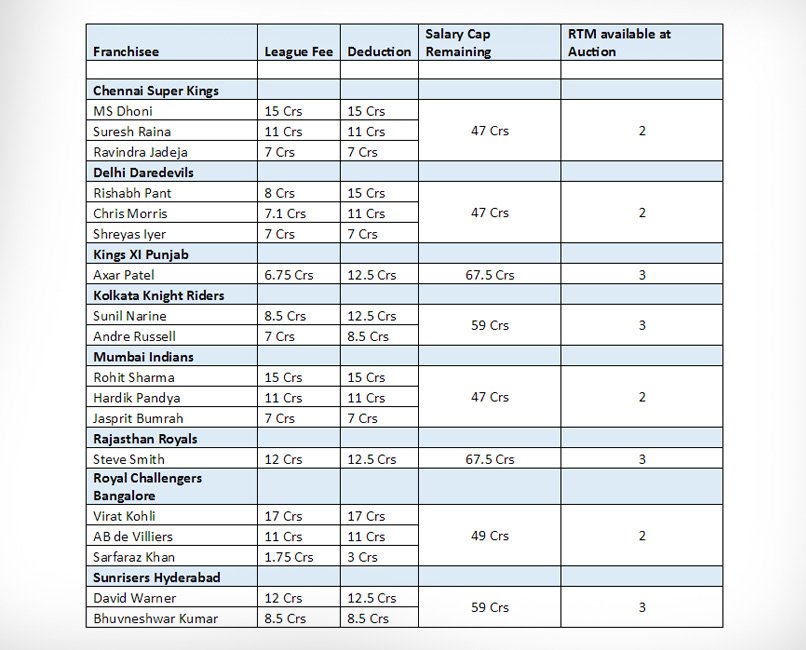 Some More Interesting News :